Gallery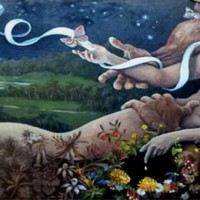 Felicity is a landscape and figurative artist who has spent the last 30 years developing the Witches Garden. When not gardening she can be found in her studio.
She finds her inspiration in painters, such as J.M.W Turner, romanticist landscape painter, Claude Monet,  impressionist painter, and Australian painters from the Heidelberg school, in particular Tom Roberts, McCubbin and  Streeton. But Gustav Klimt's work, such as the Portrait of Adele Bloch-Bauer, was an inspiration which she could represent her family.
In this section is a selection of work.